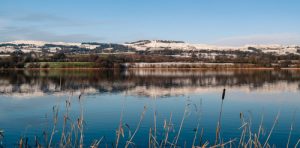 The coastal county of Renfrewshire isn't commonly spoken about, considering its hugely popular neighbour in the city of Glasgow, yet the region is actually home to a number of eye-catching attractions and things to do.
At Gleddoch Hotel and Spa, we often assist our guests in identifying what they can do in Renfrewshire and in the surrounding area. For your convenience, we have compiled this detailed guide to answer the question of what there is to do in Renfrewshire. If you decide to visit this historical region of the Scottish lowlands, be sure to explore our luxurious facilities and choose from our range of pampering deluxe rooms.
With that said, here are some of the most notable things to get up to:
Visit Paisley Abbey
As the biggest settlement in the county, Paisley is home to a number of historic buildings - each with their own chequered past and interesting stories. One of the most popular in the region is Paisley Abbey, a 13th century Church dedicated to St Mary, St James, St Milburga and St Mirin. It's even rumoured that Paisley Abbey was one of the educational centres that taught William Wallace before he led the Scottish Wars of Independence.
Boasting beautiful architecture and exceptional stained glass, this is an amazing destination if you love history or old buildings.
Golfing at Gleddoch Golf Course
Alternatively, for fans of golf, the prestigious Gleddoch golf course located beside our luxurious hotel is a guaranteed hit. Originally designed in 1974 by J. Hamilton Stutt, the Gleddoch golf course boasts 360-acres of incredible views looking over the Clyde Estuary, as well as a dedicated 16 bay driving range, 6 hole academy course and challenging 18-hole championship course. The crowning jewel of the course is no doubt the 17th hole which features an iconic and memorable 150-foot drop from the tee to the green.
Whether you're a beginner golfer, seasoned professional or are simply looking for somewhere to share your passion with your family, our signature Gleddoch golf course will work for you.
Indoor Skiing at Snow Factor
Alternatively, if you're looking for something more physically demanding to do in Renfrewshire, consider trying indoor skiing at intu Braehead's popular destination – Snow Factor. Snow Factor hosts ski lessons, snowboarding lessons and even indoor ice climbing activities, perfect for future mountain climbers.
Open all year round, this destination features two different slopes, helping beginners and experts to find their rhythm without having to travel abroad. Additionally, the venue features an on-site ice bar and as well as sledging for those who want a more casual experience. Regardless, if you're wondering what to do in the Renfrewshire area, this is an unconventional choice which is still sure to please.
Spa Days at Imperia Spa
At Gleddoch, alongside our exceptional golf course, we also have a luxury spa on the premises boasting relaxing treatments, a calming atmosphere, and expert staff to boot. Whether you are looking for a beauty treatment like waxing or a pampering treatment like one of our invigorating full-body massages, we have a choice suitable for everyone.
Additionally, the Imperia Spa offers a range of packages to turn your visit into a complete experience. With both short-term, single treatment options and full half-day experiences, you can create the perfect experience for you – all you need to do is get in touch with our dedicated team and pick out the right time and treatment for your needs.
Stargazing at Coats Observatory
Whilst currently closed for refurbishment until 2022, this list of what to do in Renfrewshire simply wouldn't be complete without the mention of Coats Observatory. Tucked away in Paisley town centre, this observatory was built in the 1880s after an astronomical telescope was bought and attached to the top of the town's museum and library building.
The observatory is now a cultural landmark for the area and continues to attract visitors, even just for the beautiful design of the building's exterior. The telescope is currently used to track weather behaviour in the region and, simultaneously, when open, the observatory welcomes guests to enjoy night sky telescope viewing during the winter months depending on the weather. This does not require booking either, making it an easy quick trip whilst you're near the town centre! A great choice for families and curious individuals alike, just makes sure you check that it has reopened before visiting.
Strolls Through Gleniffer Braes Country Park
Finally, for those who like to be outdoors and explore nature, Gleniffer Braes Country Park is a scenic outdoor space worth exploring. Featuring around 480 acres of beautiful woodland with grazing cattle, natural streams, winding hiking routes and a host of different wildlife, this space has a little bit of everything.
For young families, the park is a great way to get out and about creating memories. Children can run and shout freely in the beautiful countryside space whilst individuals and couples can simply explore the area and enjoy the incredible vistas. Additionally, with on-site parking and easy travel connections, this is a space you should be able to get to without an issue.
If you are considering visiting the Renfrewshire in the near future, don't forget to explore our luxurious and relaxing rooms at Gleddoch Hotel and Spa. With knowledgeable staff, exceptional quality facilities and an on-site restaurant, spa, golf course and bar, we are here to make you stay the best it can be.
Learn more about our accommodation by clicking here, or get in touch with the team if you have any questions.