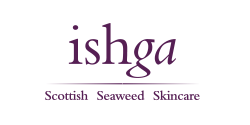 Ishga is derived from the Gaelic word for water. Ishga products have been developed in the Outer Hebrides using the highest quality and purest Scottish seaweed combined with water from a natural spring situated on the beautiful Hebridean Isle of Lewis.
Seaweed contains a high content of vitamins, minerals and powerful natural anti-oxidants that are considered essential for maintaining glowing skin.
The mineral rich seaweed extract is carefully blended with cucumber extract, macadamia, jojoba, aloe vera and lemon peel so that your ishga treatment will detoxify, nourish, firm and hydrate the skin whilst also preserving your skins natural collagen.
It is suitable for all skin types