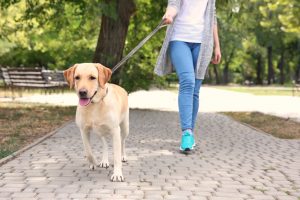 Scotland is home to some of Europe's best parks and scenery, with many considering it one of the most beautiful countries in the world. As a dog owner, you're likely to be accustomed to going for pleasant strolls with your pet but when visiting a new place, it can be difficult to find a route or trail that appeals to you and your pet.
Some dogs love to run into wide open green spaces, whilst others prefer chasing after wildlife or just following their owner. Whatever your dog's preferences or your personal needs, Glasgow is packed full of parks and places for you all to enjoy. To help you find the perfect dog walk during your visit to Glasgow, the Gleddoch team have listed five of the best dog walks in and around the city, ensuring that whatever happens, you have somewhere pleasant to walk your companion.
Clyde Murishiel Regional Park
Scotland's largest regional park, Clyde Murishiel Regional Park, is a large, open and wild space perfect for nature lovers with active and energetic pet companions. The regional park offers a variety of walking trails and experiences depending on scenery and distance, the shortest being 2km in Locherwood to the 18.5km walk at Kelly Cut. The dog-friendly trails boast incredible views over the Clyde and towards Glasgow, or you can stay in the central hilly woodland area for beautiful wild Scottish greener. One particularly popular walking route within Clyde Murishiel is at Castle Semple Country Park, where the mainly flat terrain next to the castle loch and wide, open green spaces are perfect for dogs that get over-excited and enjoy moving around. At only 30 minutes away from Glasgow city centre, this is a great destination for nature-loving dog walkers.
Pollock Country Park
Once named the best park in Europe in 2008, Pollock Country Park sits 20 minutes outside of the centre and makes for brilliant dog walking. The 361-acre country park has plenty of terrain for owner and dog to enjoy alike, with an expansive rural space allowing for dogs to roam free, safe and uninterrupted. The park boasts a range of different environments for dog walkers to enjoy such as sports fields, wooded trails and well-maintained paths, perfect for ensuring you get the walk you're looking for. With both flat and hilly routes available too, this is a vast and versatile park that can cater to your every need.
Gleniffer Braes Country Park
This particular wildlife park is home to mainly woodlands and moorlands, consisting of short-range hills and park areas to take your dog on a lovely country walk. Located in South Paisley, this dog walk is preferred for owners who enjoy more hilly terrain than a smooth walk, perfect for dogs who love open green spaces. Expect your companion to be on the messy side when the walk is completed though, as this is a much wilder park prone to more muddy regions. With two children's play parks too, this is a family-friendly option that can double as a dog walking destination and picnic location.
Finlaystone Country Estate
Boasting 140 acres of woodland to explore, Finlaystone Country Park is a varied and versatile dog walking location suitable for families, couples and individuals alike. This estate has several trails suitable for any and all preferences, varying in difficulty and length. All trails will lead you through the well over 400-year-old trees and shrubbery, giving dogs plenty to discover and explore. Whilst your companion enjoys the landscape, the woodland is also home to a variety of wildlife and attractions for you to appreciate too. Plus, with plenty of BBQ sites throughout the estate, you can easily stop to refuel for a few mid-walk refreshments.
This dog walk is also situated nearby us here at Gleddoch Hotel & Spa, one of the only dog-friendly luxury hotels in the area. Our exceptional Imperia Spa and renowned golf course are great ways to stop and relax too, giving the opportunity to pamper yourself after treating your pet.
Mugdock Park
Perfect for a family day out as well as a quick stroll, Mugdock has it all for dog walkers. Part woodland and part park, this beautiful space is the perfect way to enjoy the countryside of North Glasgow. The dog walk runs past a large loch with surfaced paths that are relatively easy to terrain, which makes it brilliant for light strolls rather than intense hikes. If your best friends enjoy running uphill, cooling down in the pond, or just going for an evening stroll then Mugdock is perfect. Additionally, the park has plenty of other attractions including beautiful gardens, a relaxing café and the ruins of Mugdock Castle.
These parks are not the only dog walking locations in and around Glasgow, but they are definitely some of the most popular and versatile. If you're looking to make a trip to Glasgow in the near future, consider Gleddoch's range of luxury rooms situated just outside the city and nestled in the beautiful countryside. Explore our accommodation offering today or get in touch and we will gladly answer any questions you might have.