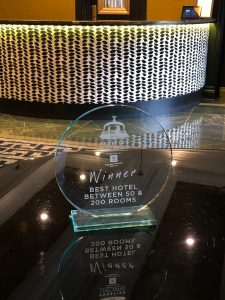 On the 17th March 2019, the team at Gleddoch Hotel, Spa and Golf attended the Glasgow Marriott Hotel to celebrate a resounding success upon winning one of the most challenging categories at the event. The hotel was chosen as the Best Hotel Between 50 & 200 Rooms, beating out stiff competition from across Scotland.
The awards ceremony itself hosted over 400 guests and gave out 20 different awards, all focusing on Scotland's highly-competitive and world-renowned hospitality industry. With this success, Gleddoch Hotel, Spa and Golf is firmly established as an exceptional accommodation option in the Glasgow area and beyond.
The Prestige Hotel Awards
With 2019 being only the third year that the Prestige Hotel Awards have taken place, there is little history surrounding these achievements. However, this doesn't detract from the prominence that comes with winning a national award which featured extremely fierce competition.
Founded by Warren Paul, a veteran of the Scottish entertainment and accommodation industry, the Prestige Hotel Awards strive to locate and celebrate the best that the Scottish hospitality industry has to offer. Each award indicates a level of quality that is recognised nationwide and in the coming years, the already substantial respect that the ceremony has garnered will only increase.